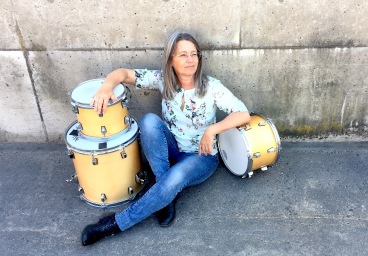 Martina Almgren har som en färgstark trumslagare och kompositör kunnat höras runt om i Sverige såväl som internationellt i diverse olika konstellationer sedan slutet av 1990-talet: oftast i jazzsammanhang och då främst i Martina Almgren Quartet (som senare blev Martina & Owe Almgren Quartet). Tillsammans har kvartetten släppt fem album på egen hand och sedan medverkat som en del av Almgrens tentett Oh Yeah Orchestra, se albumet Freedom of Movement, vars musik var beställningsverk för Swedish Jazz Celebration. Martina är också en av de kreativa ledarna i MOZ Trio tillsammans med brittiska pianisten Zoe Rahman och Owe Almgren samt medlem i Karolina Almgren Projekt och Teresa Indebetou Band.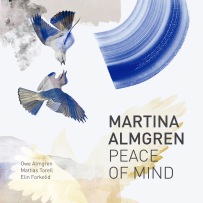 Martina Almgren
PEACE OF MIND
OYR014 Oh Yeah Records release 6 September 2019
Trumslagaren och kompositören Martina Almgren släpper sitt andra färgstarka album i eget namn.
Peace of Mind tar avstamp i ett kollektivt samspel tillsammans med saxofonisten Elin Forkelid, gitarristen Mattias Torell och elbasisten Owe Almgren. Här möts tunga, jordnära groover och eteriska melodier på ett organiskt och självklart sätt med en sprittande livfull underton.
Martina Almgren – drums, piano&voice
Elin Forkelid – saxophones
Mattias Torell – guitar
Owe Almgren – electric bass
All compositions by Martina Almgren except no 2 based on a traditional joik, and no 5 by Lennart Kullgren. Lyrics on no 3 by Werner Aspenström.
Recorded and mixed by Janne Hanssong at Atlantis Studio, Stockholm in February 2019
Mastered by Henrik Alsér at Svenska Grammofon Studion 2019
Cover design by Kajsa Nilsson
Produced by Martina Almgren OH YEAH RECORDS 2019.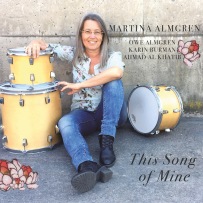 Martina Almgren
THIS SONG OF MINE
OYR013 Oh Yeah Records release 7 september 2018
Göteborgsbaserade trumslagaren och kompositören Martina Almgren släpper ett album med ett rykande färskt projekt där dikter av den indisk-bengaliske poeten Rabindranath Tagore står i fokus.

På This Song of Mine har Martina bjudit in oudspelaren Ahmad al Khatib, sångerskan Karin Burman och Owe Almgren på akustisk basgitarr, vilket har inspirerat till nya kompositioner med influenser från flera skiftande håll.
Med grund i jazz och improvisation andas musiken svensk visa, world music och elisabetanska madrigaler.

"Jag ville skriva musik från en ny utgångspunkt – och till text. Orden fick leda och forma melodin, vid första genomläsningen sjöng jag texten direkt istället för att läsa den högt. Detta blev en stomme att jobba vidare utifrån. I en "kammarmusikalisk" ensemble med oud, akustisk basgitarr, sång och percussion har jag sedan utforskat instrumentens olika möjligheter och låter musikernas personliga uttryck få ta plats och färga musiken."
This Song of Mine
"En vacker musikalisk skapelse där ouden och basgitarren omfamnar melodin och bedårar lyssnarna med en känsla av värdighet och sofistikering".
Fascinerande sound, suveränt slagverk....
Trumslagaren och kompositören Martina Almgren, ger sig här ut på ett nytt äventyr, där hon skapat musik med utgångspunkt i den indisk-bengaliske poeten Rabindranath Tagores texter - sjungna av Karin Burman. Tillsammans med Ahmad al Khatib på oud och Owe Almgren på akustisk basgitarr söker de sig fram i ett kammarjazz-orientaliskt idiom präglat av eftertänksamhet och doften av en stjärnklar natt.
Almgrens musikaliska inramning av de lyriska dikterna lyfter fram poesins stämningar på ett effektfullt sätt...en vacker och finstämd kombination. Karin Burman mejslar fram ordens nyanser med en föredömlig diktion. LIRA #4 2018

Martina Almgren – trummor & percussion
Karin Burman – sång
Ahmad al Khatib – oud
Owe Almgren – akustisk basgitarr

1. Opening
2. Waiting
3. I Thought(Closed Path)
4. Transit 1
5. I Dreamt
6. The Night is Black (On the Nature of Love)
7. Crossing
8. This Song of Mine (My Song)
9. Transit II
10. The Sun of the First Day
11. Flower
12. Ground

*Kompositioner av Martina Almgren
Text av Rabindranath Tagore
Spår 4, 7, 9, 12 är improvisationer av Almgren/ Almgren/al Khatib
Arrangemang av Martina & Owe Almgren
Inspelat och mixat av Johannes Lundberg i Studio Epidemin 2018. Mastering av Henrik Alsér i Svenska Grammofon Studion 2018. Cover foto, konstnärlig och grafisk design av Malin Almgren Gruppfoto av Donovan von Martens. Producerad av Owe Almgren Oh Yeah Records 2018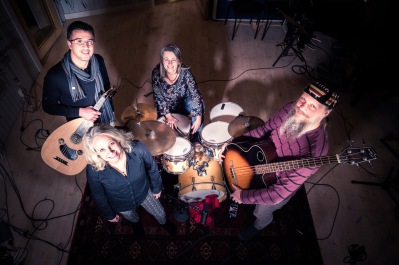 Texter av Tagore till
-This Song of Mine-
WAITING
The song I came to sing
remains unsung to this day
I´am waiting, I am waiting

I have spent my days in stringing
and in unstringing my instrument

The time has not come true,
the words have not been rightly set,
only there is the agony
of wishing in my heart

I have not seen his face,
nor have I listened to his voice,
only I have heard his gentle footsteps
from the road before my house

But the lamp has not been lit
I cannot ask him into my house,
I live in the hope of meeting with him,
but this meeting is not yet

I THOUGHT (Closed Path)
I thought, I thought
I thought that my voyage had come to its end
at the last limit of my power,
that the path before me was closed

that provisions were exhausted
and the time come to take shelter
in a silent obscurity

But I find that thy will knows no end in me.
And when old words(songs) die out on the tongue,
new melodies break forth from the heart,
and where the old tracks are lost,
and where the old tracks are lost,
new country is revealed with its wonders

I DREAMT
I dreamt that she sat by my head,
tenderly ruffling my hair withher fingers,
playing the melody of her touch

I looked at her faceand struggled with my tears,
till the agony of unspoken words burst,
my sleep like a bubble

I sat up and saw the glow of the Milky Way above my window,
like a world of silence on fire,
and I wondered if at this moment
she had a dream that rhymed with mine

THE NIGHT IS BLACK (On the Nature of Love)
The night is black and the forest has no end,
a million people thread it in a million ways

We have trysts to keep in the darkness,
but where or with whom - of that we are unaware

But we have this faith - that a lifetime's bliss
will appear any minute, with a smile upon its lips

Scents, touches, sounds, snatches of songs
brush us, pass us, gives us delightful shocks

The night is black and the forest has no end,
a million people thread it in a million ways

Then peradventure there's a flash of lightning:
whomever I see that instant I fall in love with

I call that person and cry: `This life is blest!
for your sake such miles have I traversed!'
All those others who came close and moved off
in the darkness -
I don't know if they exist or not

THIS SONG OF MINE (My Song)
This song of mine will wind its music around you, my child,
This song of mine, like the fond arms of love
This song of mine, will touch your forehead like a kiss, my child,
This song of mine, like a kiss of blessing

My song will be like wings to your dreams,
it will sit by your side and whisper in your ear,
My song will sit in the pupils of your eyes,
and carry your sight into the heart of things

It will be like the faithful star
when dark night isover your road

This song of mine will wind its music around you, my child,
This song of mine, like the fond arms of love
This song of mine, will touch your forehead like a kiss, my child,
This song of mine, like a kiss of blessing

This song of mine, this song of mine

THE SUN OF THE FIRST DAY
The sun of the first day
Put the question
Who are you?

There was no answer.
Years, years passed by
On the shore of the western sea
In the hush of evening

The last sun of the last day
Uttered the question
Who are you?
on the shore of the western sea
In the hush of evening
on the shore of the western sea

FLOWER
Pluck this little flower and take it, delay not!
I fear lest it droop
and drop into the dust

I may not find a place in thy garland,
but honour it with a touch of
pain from thy hand and pluck it

I fear lest the day will end before I am aware,
and the time of offering go by


Pluck this little flower and take it, delay not!
I fear lest it droop
and drop into the dust

Though its colour be not deep and its smell be faint,
so use this flower in thy service
and pluck it while there is time

So use this flower in thy service
and pluck it while - there is time