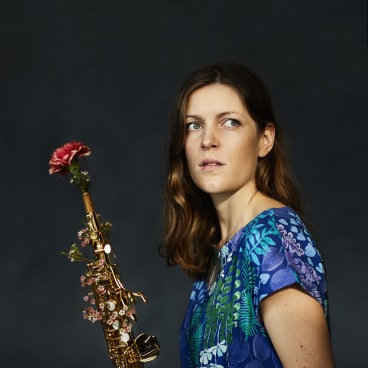 Karolina is an excellent improviser and a innovativ composer/arranger.
Karolina Almgren Projekt
LIVE I UMEÅ
OYR015 Oh Yeah Records release 6 December 2019
The truly unique instrument setting of soprano saxophone, cello, double bass and two drumsets makes Karolina Almgren Projekt stand out as a super exiting jazz group With open minds and a big amount of focus the five established musicians create music together. Each one of them contributing with their on personal touch, creating a new and fresh group sound.
The quintet is Karolina Almgren´s latest constellation, they play a mix of the celebrated saxophone players own compositions and rearranged old folk and jazz melodies. The music has a strong focus on rhythms and melodies, it´s full of contrasts and surprises.

Karolina Almgren - saxophone
Svante Henryson - cello
Isa Savbrant - double bass
Martina Almgren - drums&percussion
Malin Almgren - drums&glockenspiel

All arrangements by Karolina Almgren
Composer Karolina Almgren: 2, 7, 9, 10
Wayne Shorter: 3 Duke Ellington: 4 Jimmy Van Heusen: 8 Trad: 1, 5, 6
Recorded 22 November 2018 at Umeå Jazzstudio by Daniel Nygaard
Mixed och mastered by Henrik Alsér
Produced by OH YEAH RECORDS 2019

Want to review the album?
Please, send us a mail, and you will get a link to the music!